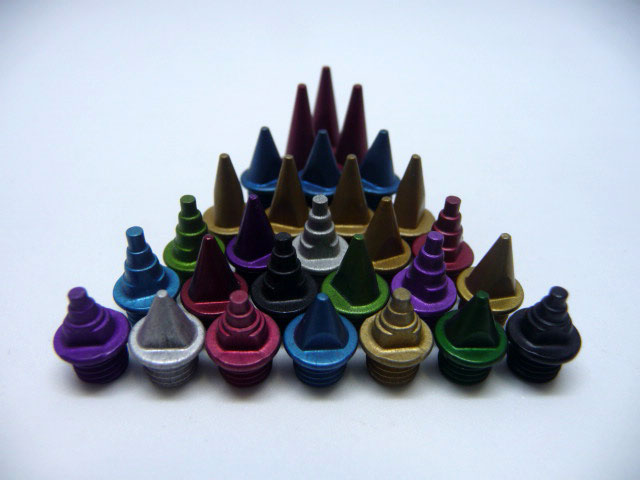 They don't call 'em "Lite" for nothing….and WHY do most of the world's elite athletes use ultra-lite ceramic track shoe spikes?
These spikes are extremely light, 2/3 lighter than the steel spikes
Lite spikes provide very fast starts & excellent traction around the corner
Compresses the track instead of cutting it, to provide energy to the athlete
Ceremic aluminium spikes do not rust or corrode nor it will damage any track
Lite track spikes are standard features in most track shoes designed and manufactured by the world's leading athletic shoe makers including NIKE, ADIDAS, REEBOK, PUMA and NEW BALANCE.
These space-age ceramic track spikes were utilized by athletes since Atlanta & Sydney Olympic who won approximately 40 gold medals.
These spikes were also used in several world record performances including the 100m, 200m, 400m and the mile events.
Now….you can enjoy the same technology that has helped some of the world's finest athletes reach the pinnacle of their performances.
Lite Spikes Types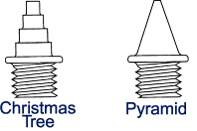 Recommended Spike Usage
| | |
| --- | --- |
| 50m – 400m | 5 – 7mm Christmas Tree |
| 800m – 1500m | 5 – 7mm Pyramid or Christmas Tree |
| 3000m – 10000m | 5 – 7mm Pyramid |
| Pole Vault | 7mm Pyramid or Christmas Tree |
| Javelin | 7 – 13mm Pyramid |
| High Jump | 7 – 9mm Pyramid |
| Long Jump | 7mm Pyramid |
| Triple Jump | 7mm Pyramid |
| Cross Country | 5mm – 13mm Pyramid |
Spike Maintenance & Replacement
The Ultra-Lite ceramic spike is designed to provide athletes with a lightweight product that feels good on the track and maximizes energy returned to the athlete by compressing the track rather than cutting it. The useful life of the product can be extended significantly by avoiding concrete.

When inserting spikes with a standard spike wrench there's no need to overtighten. A snug fit is satisfactory given the nature of the ceramic spike. Check each spike prior to each outing.

As the ceramic spike will not rust, removal of it should be easier than removing a steel spike. If removal is unsuccessful with a standard wrench the following tools will help:

needle nose locking pliers

a file

As in the removal of a steel spike, attach the locking pliers tightly across the flats of the spike. The locking pliers should be attached near their handle, not near the thin tip. After achieving a firm grip, rotate counter clockwise until the spike begins to rotate out. If a firm purchase is not possible on the spike, use the file to carefully create a smooth section on each flat area. Remove a minimum amount of material to allow for successive attempts with the locking pliers.
"Lite Spikes" are Made in USA