Our Beloved Coach Lydia De Vega
You will always be remembered and loved, "A life that touches others goes on forever."
26 December 1964 – 10 August 2022
Brief Story of Our Late Lydia De Vega
Twice Asia Fastest Women, Two Time Olympian & Experienced Coach
Lydia de Vega, originally from the Philippines, was considered Asia's multi-titles sprint queen and fastest woman in the 80's and early 90's.
In addition to being a two-timed Olympian (1984 and 1988), Coach Lydia also held many records and medals from other Asian and regional events.
Lydia was a popular figure in the Philippines that in 1983, a movie (Medalyang Ginto – Gold Medal) was shown across Philippines Theaters, base on her true-life story and her achievements and in the year 2004, another 2-part series (Magpakailanman – Forever) was shown in the Philippines (Channel 7) on her lifetime achievements.
With all the training and experiences, Coach Lydia is now helping adults and children to realise their athletic dreams by coaching schools and private athletes in Singapore.
Education
Associate in Arts – Mt. San Antonio College, Walnut, California, USA
Bachelor of Science In Education, Major In Physical Education, Far Eastern University, Philippines
Courses / Seminar Attended
IAAF – Level 1 & IOC Solidarity Course (Philippines)
IAAF – Level 2, Sprints (Singapore)
40th International Session for Young Participants, International Olympic Academy in Athens, Greece
PATAFA National Officiating Course
International Olympic Committee (IOC) – Sports Medicine Course
Philippines Sports Medicine Centre – Elevating Scientific Preparation for SEA Games
SCC – Symposium of Sports Science
SNDA Scientific Seminar – Sports Nutrition
SDSC – Disability Sports Conference
IOC – Sports Administrators Course
SDSC – Disabled Track & Field Technical and Coaching Course
First Aid Course (Singapore Red Cross)
MOE / SSSC / SPSSC Coaches Accreditation Course
SSTI – Understanding & Working with People with Physical Disabilities
MOE – Coaching in Singapore Schools: Developing the Whole Child
ACE/FIT – Sports Injuries
ACE/FIT – Advance Muscle & Strength Development
ACE/FIT – Training Older Adults
ACE/FIT – Mobility & Stability Assessment and Training
SSC – National Standards for Youth Sports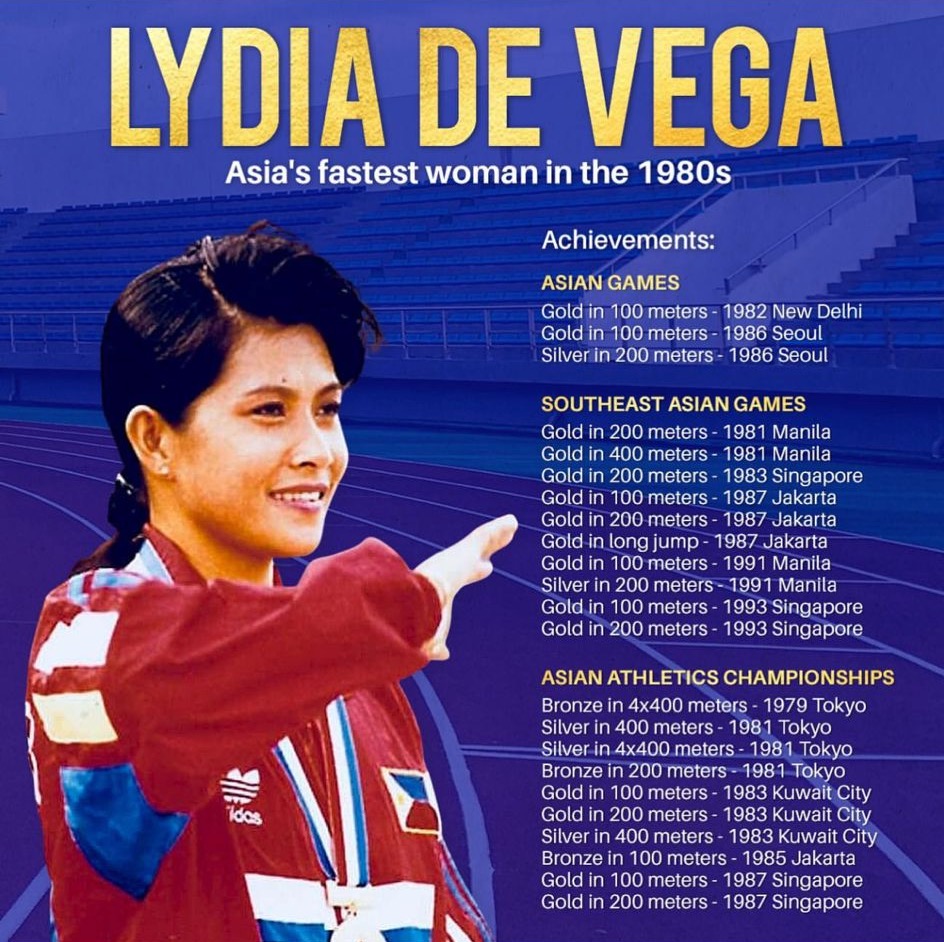 Achievements
1984 & 1988 Olympic Games (Quarter finalist in both Games)
Current SEA Games record holder in 100m (11.28secs) since 1987
Former SEA Games record holder in 200m (23.37secs) from 1987 – 2001
Former SEA Games record holder in Long Jump (6.27m) from 1987 – 1989

Label as Asia fastest women for 8 years from 1982 – 1990

2 gold, 1 silver medals in 2 Asian Games
9 gold, 9 silver & 2 bronze medals in 5 SEA Games
4 gold, 1 silver & 4 bronze medals in 5 Asian Track & Field meet
9 gold, 2 silver medals in 5 Asean Cup
9 gold in 3 Asean Schools Track & Field meet
Medals Breakdown from 2 ASIAN Games
In 1982, 100m (11.76) – 1st
In 1986, 100m (11.53) – 1st, 200m (23.47) – 2nd
Medals Breakdown from 5 SEA Games
In 1981, 200m (23.54) – 1st, 400m (54.75) – 1st, 4 x 100m – 2nd, 4 x 400m – 2nd
In 1983, 100m (11.78) – 2nd, 200m (24.26) – 1st, 4 x 400m – 2nd
In 1987, 100m (11.28) – 1st, 200m (23.57) – 1st, Long Jump (6.27) – 1st, 4 x 100m – 2nd, 4 x 400m – 2nd
In 1991, 100m (11.44) – 1st, 200m (23.95) – 2nd, 4 x 100m – 2nd, 4 x 400m – 3rd
In 1993, 100m (11.60) – 1st, 200m (23.37) – 1st, 4 x 100m – 2nd, 4 x 400m – 3rd
Medals Breakdown from 5 ASIAN Track & Field Championship
In 1981, 200m (24.54) – 3rd, 400m (55.39) – 2nd
In 1983, 100m – (11.82) – 1st, 200m (24.07) – 1st, 4 x 400m – 2nd
In 1985, 100m (11.96) – 3rd, 400m (55.66) – 3rd
In 1987, 100m (11.43) – 1st, 200m (23.38) – 1st
In 1991, 100m (11.71) – 3rd
Awards
Philippines Sports Writers Association (PSA)

1981 – Athlete of the Year
1986 – Athlete of the Year
1987 – Athlete of the Year
1992 – Major Award
1993 – Major Award
1994 – Special Award
1998 – Athlete of the Century
1999 – Millennium Athlete
2018 – Philippines Hall of Fame Inductee

Ten Outstanding Young Men (TOYM)

1993 – Sports Category

International Invitation Track & Field Competition, Bangkok

1983 – Best Female Athlete

Southern Coast Conference, USA

1986 – Athlete of the Year
Coaching Experience
Former Philippines National Sprints Coach
Consultant for Athletes Affairs, Philippines Sports Commission (1998 – 2005)

Former coach of Singapore Disability Sports Council (SDSC) National Team since 2010

Currently also coaching our Local schools, conducting Private classes & Adults Running Programme
Overseas Competition as Coach
2007 Asean Para Games (Korat, Thailand) SDSC Athletics Coach
2011 Asean Para Games (Solo, Indonesia) SDSC Athletics Coach
2014 Asean Para Games (Nay Pyi Taw, Myanmar) SDSC Athletics Coach
---
(An article extracted from Athletics Digest 1983, Singapore)
Lydia De Vega – Track Queen from the Philippines
During all the Asian Games in Delhi, sheer joy and deep dissapointment were never as closely connected as after the 100 metres victory of Lydia De Vega. The 18 year old PE student and film actress from the Philippines had won the final comfortably and unchellenged in excellent 11.76secs but had injured herself after breaking the tape. A pulled muscle prevented her from participating also in the 200 metres.
But still, a dream had become true when Lydia crowned herself as the fastest women in Asia; a dream of a 14-year-old schoolgirl who had started to compete in Track & Field meets with a promising 27.5secs for the 200m and the silver medal in the Philippines National Junior Championship and who added a fourth place in the 100m to this success. That was four years ago in 1978.
Only one year later, in 1979 at the age of 15 years, Lydia De Vega already represented her country in the 3rd Asian Track & Field Championship in Tokyo. With a leap of 5.47 metres, she came in 7th in the Long Jump competition but also carried home a bronze medal when she came third in the women's 4x400m relay with her teammates Lorena Morcilla, Carmen Torres and Myrna Ayo.
Still, in 1979, Lydia won herself three gold medals in the ASEAN School Championship in Singapore. She took the titles in the 100m in 12.5 seconds, in the 400m in 58.0secs and in the Long Jump with a leap of 5.27 metres. But Lydia also won a silver medal in these Games when her 4x100m relay came in second to Malaysia. On the other hand, the Games was already showed very clearly that Lydia was always in danger to be overburdened with too many races in just in a single meet.
This applies also to her participation in the 10th SEA Games in Jakarta, still in 1979. Within four days of competition she took part in the 400m, 4x100m relay, 4x400m relay (in which she came 5th each), in the 100m ( in which she was placed 6th and recorded her best result of the Games when she clocked 12.38secs in the heats ), and in the Long Jump in which she came 7th with a performance of 5.45 metres. To cut down her competition programme she resigned from taking part in the Long Jump after having taken the title in this event in the national junior meet of that year.
1980, young Lydia made the news headlines when she won both the 200m and 400m in the first ever ASEAN Cup in Jakarta with times of 24.53 and 55.83 seconds respectively and when she got a ranking in the Asian top-list with 12.0secs in the 100m, 24.53 seconds in the 200m ( this as Asia's number four ), and with 54.6secs over the 400m, the best time recorded in the one-lap event by an Asian women in that year.
With two silver and one bronze medals in the 4th Asian Track & Field Championship in Tokyo, Lydia De Vega had a flying start into the 1981 season. With a time of 55.39secs, she was second to Japan's Yunko Yoshida in the 400 metres. In the 200m, she clocked 24.54secs to take the bronze behind the Japanese couple Emiko Konishi and Tomi Ohsaka. Her silver came in the 4x100m relay in which the Philippines team was placed second behind Malaysia following the disqualification of the winning Japanese team.
At the end of the 1981 season, Lydia De Vega became the undisputed star of the 11th SEA Games in Manila. She assured for the gold medals in the 200m and 400m with outstanding 23.54secs in the shorter distance (only Chi Cheng was faster in Asia ever) and with 54.75secs in the metric quarter mile. Silver medals in both relay events completed her success but again showed the danger of being burdened with too many races on the same occasion.
After leaving school and taking up studies in PE at the Far Eastern University in Manila, Lydia De Vega also started an interesting job as a film actress; first, in a movie showing the slow but steady progress of an athlete from the modest very beginnings at grassroots level up to setting records and winning gold medals. Her father, Francisco De Vega, who is also her coach, expressed his views about Lydia's engagements when asked about her future plans, "Studies first, Sports second, Film third."
Gold medals were of course also on Lydia's programme for 1982. Unchallenged again she won herself a triple crown in the 2nd ASEAN Cup in Kuala Lumpur with times of 11.8secs for the 100m, 24.2secs for the 200m and 55.0secs for the 400 metres. Having also won a bronze with her team in the 4x400m relay she had to cancel her participation in the sprint relay due to slight injury which she got in the 400 metres. This was only three weeks prior to the 9th Asian Games in New Delhi.
In the Indian capital, Lydia seemed to be all right again when she won her heat in the 100m in excellent 11.77secs and clipped off another 1/100secs winning the finals from India's P. T. Usha (11.95secs) and Korea's Mo Myung Hee (11.99secs), both of her opponents never being able to endanger the fleet-footed track queen from the Philippines. But Lydia had to cancel her participation in the 200m due to new pains caused by her old injury after her triumphant showing in the 100 metres.
And this is how Lydia De Vega, who is a keen singer in her spare time, who was born in December 1964 in Meycauayan Bulacan, and who stands 1.68 metres at a weight of 61.0 kg, developed so far;
| Year | Age | 100m | 200m | 400m |
| --- | --- | --- | --- | --- |
| 1978 | 14 years | 13.2 | 27.5 | – |
| 1979 | 15 years | 12.1 | 26.6 | 58.8 |
| 1980 | 16 years | 12.0 | 24.53 | 54.6 |
| 1981 | 17 years | – | 23.54 | 54.75 |
| 1982 | 18 years | 11.76 | 24.20 | 55.0 |
Personal Best Time
100m – 11.28 (SEA Games Record since 1987)
200m – 23.35 (Former SEA Games Record)
400m – 54.4
L/J – 6.27m (Former SEA Games Record)
If you would like to know how the sprint queen of Asia was born, read the clippings… for your leisure.