Developing holistic students through CCA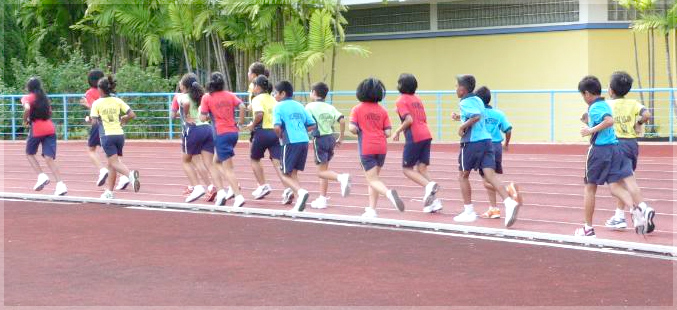 Our school coaching method, aims to achieve the 3 most important areas governing the principles of training in Athletics and Cross Country events and other programmes, which are solely base on;
Physiological (Physical)
Psychological (Mental)
Pedagogical (Teaching)
The scientific principles are the physiological effects of training on the athlete. The psychological principles affect the athletes' mental or psychological state more than his / her physiological state. The pedagogical principles relate more to how training is planned and implemented, how skills are taught, than to its physiological effects.
When combined, ideally, these principles give us a holistic approach to our training programmes.
Our yearly training programme (Periodisation) consist of;
Preparation Period
Specific Preparation Period
Competition Period
Transition Period
Periodisation, is the art of varied training, a training methodology that involves various types and intensities of training scheduled specifically to achieve improved fitness and performance. This is the key to unlocking your school athlete's potential to peak performance.

Currently Coaching
*MOE – JSA (Junior Sports Academy) @PESEB Track (3-4 Coaches)
*Raffles Girls School (Sprints Team)
*Raffles Girls School (Distance / Cross-Country Team)
*North Vista Sec School
*Hua Yi Sec School
*Admiralty Sec School
*Chongfu Pri School (2-3 Coaches)
*Rosyth School (2 Coaches)
*German European Singapore School (2 Coaches)
*Victory Life Christian School (3 Coaches)
*Grace Orchard School (2 Coaches)



If you would like to know more, contact Jack @ 9671 1470
We are simply the BEST team (with 3 former SEA Games medallist and Experienced Coaches) and we emphasise on the "Athletes first, Winning second" philosophy and work gradually towards individual athlete goals.
Deserving Athletes
FREE Coaching for Singaporean athletes (15 years & above) who have achieved reasonable good time in Sprints & Distance events during National Schools Championship, SAA Meets or any official runs and want to excel further, come join us.

To be the BEST, train with the BEST…