Rewarding, Challenging, Fun and Fulfilling Programme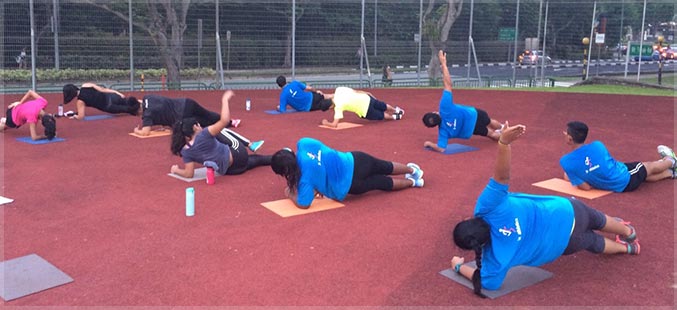 Adults (Men & Women) Running Programme 
In our training programme, we work for each individual specific GOALS.
If you are training….
For Long Distance, Road Races, Cross Country & Marathon
To build up Fitness level
To shed some extra Weight
To live Active, Fit & Healthy
then this programme is for you….and learn the proper techniques on running, on breathing system, how to build up mileage, how to improve speed, how to pace during your runs and how to win races.
The running programme is REWARDING, CHALLENGING, FUN, FULFILLING and yet you will improve your SPEED, STRENGTH and STAMINA.
Our Running Programme is designed for all levels, from beginners to advance. The programme incorporates
Strength Training – Resistive Bands, Kettlebells, Dumbbells, Medicine Balls,
Circuit Training, Plyometric, Core Stability & Pelvis Stabilisation
Interval Workouts
Endurance running
Benefits
Motivate and Push You To Better Results
Increase Flexibility, Mobility & Agility
Increase Self-esteem
Increase Self confidence
Reduce Inches & Weight
Reduce Stress
Lots of Fun
Value for Money
NO same session will be repeated for at least 2 months
Weekly Training Programme given for other days
Location
On every Monday, Thursday & Saturday @ 6.30pm – 8pm at CCAB (PSOEB) Stadium (click for Direction) off Evans Road, near Botanical Garden MRT Station.
Rain or Shine, we do not cancel any training session, only on gazetted Public Holidays, eve of Christmas and eve of New Year.
Fee
A Flat Fee of $100/- per month, regardless of 3 sessions or less attended a week OR
Quarterly Payment of $275/- (Advance Payment).
Attire
Compulsory to wear during all our training sessions.
$25 per pair of our attire (1 T-shirt & 1 Singlet/Sleeveless or any 2 same attire)
For any 3rd attire purchase, $10 per piece (T-shirt, Singlet or Sleeveless)


Come join us for 1 FREE session.
If you would like to know more, contact Jack @ 9671 1470
We are simply the BEST team (with 3 former SEA Games medallist and Experienced Coaches) and we emphasise on the "Athletes first, Winning second" philosophy and work gradually towards individual athlete goals.
Adults Programme Registration
Deserving Local Athletes
FREE Coaching for Singaporean athletes (15 years & above) who have achieved reasonable good time in Sprints & Distance events during National Schools Championship, SAA Meets or any official runs and want to excel further, come join us.

To be the BEST, train with the BEST…